Brambles manages the world's largest pool of reusable pallets and containers. As a pioneer of the sharing economy, Brambles promotes the shared use of its platforms among multiple supply chain participants under a circular 'share and reuse' model known as pooling. Through its inherently sustainable operating model, superior network advantage and industry expertise, Brambles leads the market in more efficient and sustainable supply chains.
Inherently Sustainable Operating Model
Brambles' 'share and reuse' model follows the principles of the circular and sharing economies, creating more efficient supply chains by reducing operating costs and demand on natural resources. By promoting the 'share and reuse' of assets among multiple parties in the supply chain, Brambles offers customers a more efficient and sustainable alternative to the use of disposable single-use alternatives or managing their own proprietary platforms.
Network Advantage and Supply Chain Expertise
Brambles' sustainable operating model is underpinned by its superior network advantage and industry-leading supply chain expertise, developed over 70 years of managing customers' supply chains around the world. With operations in approximately 60 countries, Brambles' network advantage comprises the scale and density of its service centre network and the strength of its customer relationships in every major market in which it operates. This means Brambles can be faster and more responsive to customers' needs and in times of uncertainty and increased volatility, more resilient and more reliable.
Sustainability Strategy
Brambles' sustainability strategy organises the Group's sustainability activities and goals under three broad programmes: Better Business; Better Planet; and Better Communities.
Brambles' sustainability strategy is outlined in more detail on page 11, including the performance against the 2020 sustainability goals.
'Share and reuse': How it works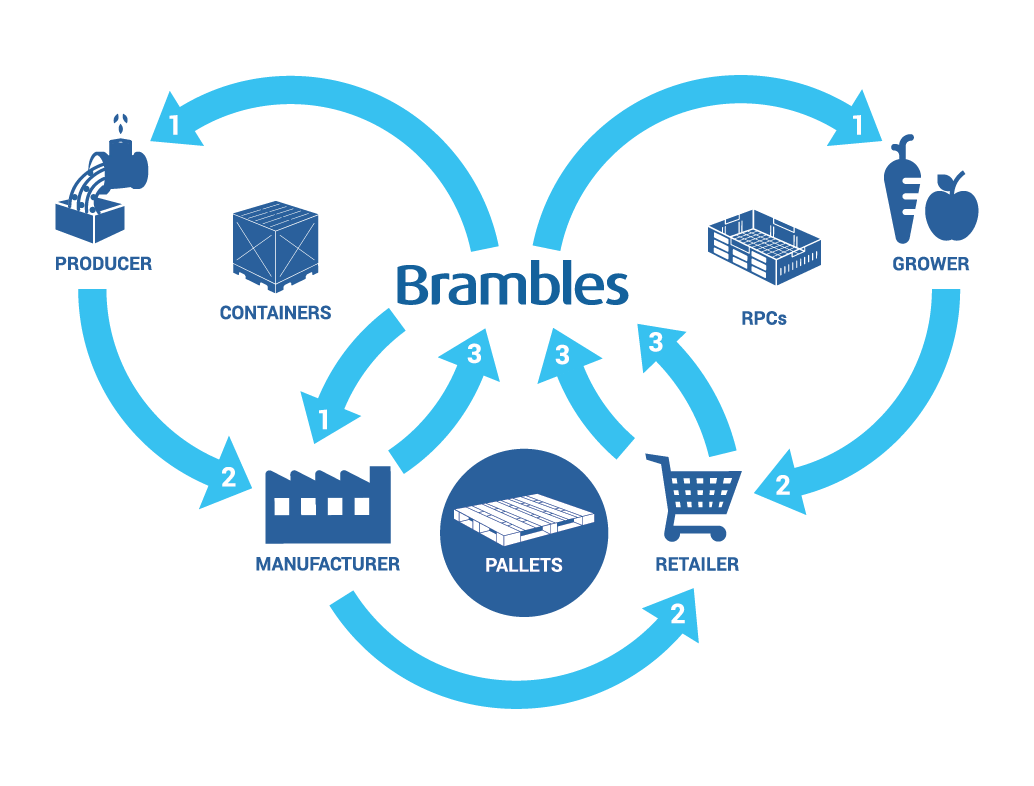 Using its network advantage and asset management expertise, Brambles seamlessly connects supply chain participants, ensuring the efficient flow of goods through the supply chain. By reducing transport distances and the number of platforms required to service the supply chain, Brambles delivers savings in which all participants share.
1

Brambles provides standardised pallets, crates and containers to customers from its service centres as and when the customer requires.

2

Customers use this equipment and Brambles' support services to transport goods through the supply chain.

3

Customers either arrange for the equipment's return to Brambles or transfer it to another participant for reuse.
Brambles retains ownership of its equipment at all times, inspecting, cleaning and repairing them in order to maintain appropriate quality levels.
Brambles generates sales revenue predominantly from rental and other service fees that customers pay based on their use of its platforms and services.